Post by JENNIFER MARIE CALLAWAY on Jun 26, 2013 22:07:56 GMT -5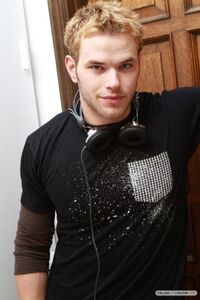 Benjamin MIDDLE Callaway
face claim: kellan lutz
22, college student, heterosexual
Ben is the older brother of Cole Callaway and the older cousin of Jennifer Callaway. His parents weren't around a lot when growing up, so a lot of his time was spent at his uncle's house with his younger brother and younger cousin. He would always keep an eye on the two younger Callaway's and made sure they didn't get themselves into too much trouble. As he grew older an interest in sports sprouted and he became very involved at his school with the soccer team and several other teams. When it came time for high school, his parents had stepped out of the picture completely and he lived with his brother, cousin, aunt, and uncle. He was sent to Wentworth Academy and joined the soccer team where he excelled. A few years later he was joined at WA by his brother. After graduating from the academy, Ben chose to stay close by and attend Wentworth University on a partial sports scholarship.
When not attending to school work or practice, Ben enjoys hanging out with family and friends. In his opinion there is nothing better than sitting around a fire pit with good friends and a couple of beers. He's a simple, easy going guy. Family is very important to him and that is why he chose to attend WU instead of any other university. He wanted to be close to his younger brother and his little cousin. She was the baby of the family and he would hate to see her hurt.
Cole MIDDLE Callaway
face claim: james maslow
19, college student, homosexual
Cole is the younger brother of Ben Callaway and the older cousin of Jennifer Callaway. His parents weren't around a lot from the time he was born, so he never had a chance to get to know them. Thankfully he had an aunt and uncle who cared enough to take care of him and his brother. Like Ben, Cole would keep an eye on Jen, but sometimes he would join her in whatever escapade she had planned.
From an early age Cole showed an interest in swimming. His aunt and uncle paid for him to take swimming lessons and he picked it up remarkably fast. During his primary schooling he had been part of a local dive team that competed in regional competitions, but nothing major. It wasn't until he was sent to Wentworth Academy that he got into serious competition. It also wasn't until high school that Cole realized he was different. He didn't have feelings for girls like the rest of his teammates. He actually found some of his teammates to be attractive, but he was afraid to voice his thoughts, so he just went along with the pack, pretending to like girls. At the end of his high school career Cole chose to come out to everyone and since then he has been happier and enjoying life more. He went on to attend WU with his brother and helps to keep tabs on his younger cousin. She's like a baby sister to him and would hate to see her get hurt, however he can't help but to gossip and talk boys with her. One day he hopes to break her out of her shell with Ben's help, but until then he'll just have to keep bothering her.